Didymos Observer Workshop 2018
Prague, Czech Republic
2018 June 19-21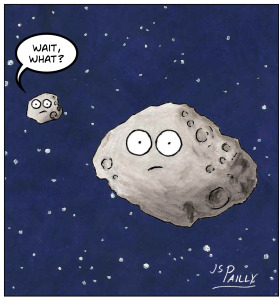 (See the whole comic here. Used with permission.)
The binary near-Earth asteroid (65803) Didymos is a planned target for the Asteroid Impact & Deflection Assessment (AIDA) mission. AIDA will be the first space experiment to demonstrate asteroid impact hazard mitigation by using a kinetic impactor to deflect an asteroid. It is an international cooperation, consisting of two mission elements: the NASA Double Asteroid Redirection Test (DART) mission and the ESA HERA (previously known as AIM) rendezvous mission. The primary goals of AIDA are (i) to test our ability to perform a spacecraft impact on a potentially hazardous near-Earth asteroid and (ii) to measure and characterize the deflection caused by the impact. The AIDA target will be the secondary member (satellite) of the binary near-Earth asteroid (65803) Didymos, with the deflection experiment to occur in late September or early October, 2022. The DART impact on the secondary at 7 km/s is expected to alter the binary orbit period by about 4 minutes and this period change will be measured by Earth-based observatories. The HERA spacecraft will characterize the asteroid target and monitor results of the impact in situ at Didymos. The DART mission is a full-scale kinetic impact to deflect a 150m diameter asteroid, with known impactor conditions and with target physical properties characterized by the HERA mission.
Remote (mostly Earth-based) observations of Didymos are an important part of the mission. Their two main goals are following: 1) A pre-characterization of the target binary asteroid, which is necessary for designing and planning the spacecraft mission. 2) Measurement of a change of the secondary orbital period caused by the DART impact, which provides a back-up for a case HERA does not happen or fails.
In this workshop, we will discuss, among other things, following main topics:
Observations in the 2019 apparition of Didymos. We will discuss expected outcomes and detail plans for the upcoming observations.
Observations in the 2020-2021 apparition of Didymos. We will set up goals for the observations in the apparition, which will be the last one before the DART impact apparition of 2022, and discuss preliminary observing plans for how to reach the goals.
Observations in the 2022 apparition of Didymos -both before, during, and after the DART impact- will be discussed on an intentions & ideas level.
Talks on related, even if non-observational topics will be welcome, as well. And we will give a plenty of time for discussion.
After the workshop there will be a 2-day trip for interested participants to the Ries-Steinheim double crater in Germany. This will be an interesting ending of the workshop, we believe.
Venue
The workshop will take place over 2.5 days, June 19 - 21, 2018, and will be held at Vila Lanna in Prague, Czech Republic.
Workshop Schedule
June 18 (Monday):
18:00-21:00 - Welcome reception
June 19 (Tuesday):
09:00-13:00 - Sessions 1 and 2
13:00-14:00 - Lunch
14:00-17:30 - Sessions 3 and 4
18:30-21:00 - Banquet
June 20 (Wednesday):
09:00-13:00 - Sessions 5 and 6
13:00-14:00 - Lunch
14:00-17:30 - Sessions 7 and 8
18:30-21:00 - Dinner
June 21 (Thursday):
09:00-13:00 - Sessions 9 and 10 and Closing of the meeting
From June 21 afternoon to June 23:
A field trip to the Ries-Steinheim impact craters in Germany.
Program
A detailed program of the meeting with times of talks specified will be available here by the end of May 2018.
We plan following tentative main session topics:
Session 1: DART and Hera missions status
Session 2: Didymos binary system: Our current knowledge
Sessions 3 and 4: Observations of Didymos in 2019-2021
Sessions 5 and 6: Observations of Didymos in the favorable apparition 2022-2023 (when the DART impact to Didymoon is planned)
Session 7: Observations beyond 2023
Session 8: Our expected knowledge and understanding of the Didymos system in mid-2020s
Sessions 9 and 10: Didymos in the context of the (binary) asteroid population: A "big picture"
Talks on related topics will be also welcome. Among them, the following ones are foreseen:
Analogs (binary, spectral) to Didymos in the asteroid population and what context it provides.
Active asteroid observations and how they may be similar to the DART impact observations.
How to leverage information from the AIDA project that may be of use to the asteroid mining and ISRU communities.

Field Trip
We plan to organize a post-conference field trip to the Ries and Steinheim impact craters in Germany, about a five hours drive from Prague. The town of Nordlingen, which occupies the center of the Ries Crater, is a significant tourist destination on the "Romantic Road" in Germany and well worth a day or two visit aside from the impact crater.
For the field trip, we will move from Prague to Nordlingen on Thursday June 21 afternoon. Participants should get there individually by cars. We suggest to use carpooling; people going by car could offer a ride to others who will not rent car. We plan to book accommodation for participants in one or two hotels in Nordlingen for the Thursday-Friday and the Friday-Saturday night.
The excursion will start in the morning of June 22 with a guided tour of the Rieskratermuseum, which should take two hours. In the afternoon we will visit quarries and outcrops of the Ries crater, guided with a geologist from the museum. On the next morning (June 23) we will drive to the Steinheim crater (with the guide), where there is a nice hiking trail (approx. 5 km) with a chance to collect shatter cones. The excursion will end on June 23 afternoon, after which the participants may go back to Prague (or to other places or airports as they need or wish), or even spend more time in Nordlingen if they like.
The cost of the excursion will be about 300-400 EUR (museum entrance fee, guided tour) per whole our group, depending on a number of participants.
Accommodation
The primary conference hotel is the venue Vila Lanna. There remain available 2 fully-equipped two/double-bed and 1 four-bed room. (They have also 3 additional two/double-bed rooms with bathroom in corridor (shared with another room), for interested guests.) Our special price is 1400 CZK/room/night. Breakfast is included. They have 10 car parking places (for 150 CZK/night each).
There are two suitable overflow hotels close to Vila Lanna: Penzion Na Stare Poste and Penzion Marna. They are about 200 and 800 meters, respectively, from Vila Lanna. Penzion Na Stare Poste offers 4 two-bed rooms for 1500 CZK/night. Penzion Marna offers 4 two-bed rooms and 2 large two-bed suites for 1550 and 1950 CZK/night, respectively. Breakfast is included and car parking is available in the hotels.
Transportation
Vila Lanna is about 10 min by walking from Metro (the underground) station Hradcanska (Line A, the Green line). Metro is the easiest mean of public transportation in Prague. The standard one-way (90-min transfer) ticket costs 32 CZK. The all-day (24 hour) ticket costs 110 CZK. The 3-day (72 hour) ticket costs 310 CZK. The 30-day transferable ticket costs 670 CZK. You can buy tickets in ticket machines (coins needed) or in newsstands, or you can pay the transportation fee by sms (text) message if you have a Czech mobile phone card. A ticket machine on the Prague airport should also accept payment with contactless credit/debit card. Metro operates from 05:00 to 24:00 approximately. The connection finder may come in handy, especially if you wanted to use also buses or trams. Useful information on Prague public transportation tickets is available here.
For transfer from/to the Prague (Vaclav Havel) airport, we recommend you to use the bus line 119 between the airport and the Metro station Nadrazi Veleslavin and the Metro line A (Green) between the stations Nadrazi Veleslavin and Hradcanska. The total transportation time should be about 40 minutes. Taxis are available but are far more expensive than the bus/metro. An alternative: Prague Airport Transfers.
Registration
The participant registration form is available here. The deadline for regular registrations has already passed, but we still have free places so late registrations are possible (and encouraged).
The list of registered participants is available here.
The participation fee is 4800 CZK (approx. 190 EUR, or 220 USD). It covers all the events from 2018 June 18, 18:00, to June 21, 13:00, that are listed in the Workshop Schedule above. You can pay the fee at the time of registration or later. If you have already registered earlier but haven't paid the participation fee yet, and want to pay by credit/debit card now, click here.
The Europlanet 2020 RI will support participation in the workshop for about 13 observers (both professional and amateur) from the EU inclusiveness states and early career scientists (including students) from the EU, by reimbursing their participation fees and travel and hotel expenses. Participants interested to apply for the support can find the Europlanet 2020 RI reimbursement guidelines here, and they can mark an appropriate option upon registration (the link above).
Abstract Submission
The deadline for regular abstract submission is May 22.
The abstract submission form is available here.
List of submitted abstracts is available here.
SOC and LOC
SOC:
Cristina Thomas (chair)
Paul Abell
Line Drube
Shantanu Naidu
Petr Pravec
Andy Rivkin
Petr Scheirich
Colin Snodgrass
LOC:
Petr Pravec (chair)
Petr Scheirich
Petr Fatka
Colin Snodgrass
Manuel Scherf
Acknowledgements
We are gratefull to the Academy of Sciences of the Czech Republic for its support to the meeting.
This workshop is supported by Europlanet 2020 RI Work Package NA1 - Innovation through Science Networking, Task 5. The EU-project Europlanet 2020 RI has received funding from the European Union's Horizon 2020 research and innovation programme under grant agreement No 654208.


Contacts
Cristina Thomas (SOC Chair): cristina.thomas@nau.edu
Petr Pravec (LOC Chair): petr.pravec@asu.cas.cz